Pixie Princess
Flatter yourself with this high-waist/crop top combo. It's just the right amount of comfort, style, girly-girl, and fun. Show the look off with a loose ballerina bun, and compliment it with a cute pair of nude booties or slingback wedges.
That barbie look is where you need to be. Pearl highlights, rosy cheeks, sparkling lips, and blacker than black lashes.
All the Frills
Can you get any more feminine than this?! Lace and chiffon scream lady-like, and this color is fit for a queen. To let the details of the dress shine, be sure to put your hair up (a loose and messy low bun with a braid sweeping across would be so pretty).
For a more casual look: pair with flat sandals
For a more polished look: pair with slingback wedges.
Feeling adventurous? I hope so! Because we love matching our lower lashes line with a sparkling teal color to pop!
Royalty
Get girly! Curl your hair, let it down, add nude heels, The Andi bracelet, and a nice pair of gold hoop earrings for a look your S.O. will love to show you off in.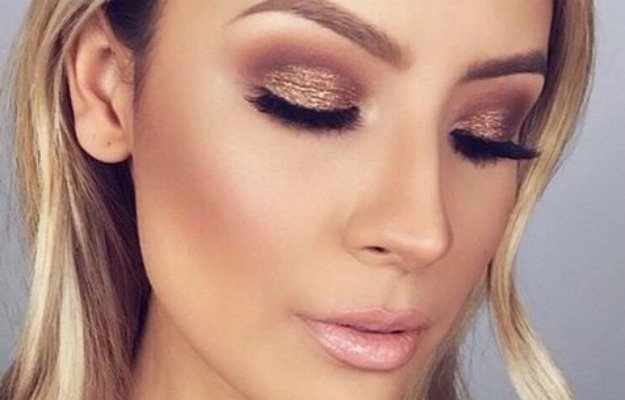 Keep the theme with this one - go for a full rose gold look! Make those eyes pop and those lips irresistible.
Get Wild
Have fun with your boo and look fun too!
Recommendation: Let the sweater fall off one shoulder while your hair falls loose. Pair with gold dangling earrings and a pair of black or nude heels.
Go bold all over. Match your look with shimmery gold eyes and a deep purple satin lip stain. Apply highlighter above your lips and in the corners of your eyes to pop!
Mellow Yellow
You're going to be looking anything but mellow in this date night look. Did you know you can even wear The Andrea sweater with the twist in the front for different look?
Three different looks: black leather boots, nude wedges, or yellow heels? Which do you choose?
Red and orange will make your outfit and your eyes standout. Be sure to keep your lips neutral. For fun - poof the crown of your hair and wear a back pony tail in the middle of your head!